Return to Search Page | Return to Search to Results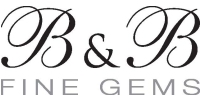 B & B Fine Gems
606 S Olive St., Ste. 1950
Los Angeles, California 90014
United States of America
Contact: Bindra, Ruben
Email: rubenbindra@gmail.com
P: 213-622-5145
F: 213-622-5412

Products and Services
Natural Gemstones
World-class gemstones.
Gemstones
Exquisite Brazilian Alexandrite of all sizes.
Tsavorite and grossular Garnet. Russian demantoid and Mandarin Garnet.
Calibrated, Demantoid, Faceted, Hessonite, Pyrope/Almandite, Rhodolite, Spessartite, Tsavorite
Exquisite Mozambique and Burmese.
Calibrated, Faceted, Star
Exquisite Sapphires of all colors from Sri Lanka and Madagascar. Unheated and heated.
Calibrated, Faceted, Melee, Star
Blue, Other Colors, Pink/Red, Yellow/Canary/Golden
Exquisite Spinels of all colors from Burma, Sri Lanka, Tanzania, Vietnam.
Large quantity single gemstones.
Precious Imperial Topaz from Brazil.
Exquisite Paraiba from Africa and Brazil.
Blue, Green, Other Colors, Pink/Red, Paraiba
Large fine single gemstones.